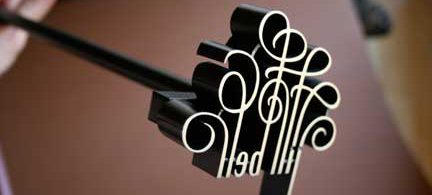 Jill Bell Brandlettering creates original, custom lettering solutions of any kind (logos, titles, fonts, taglines, handwriting) for all of the usual suspects: advertising, entertainment, packaging, editorial, corporate, publishing, government as well as other designers and most of the the major type houses. 
Our lettering creations cover a large variety of styles and applications including:
• Logotypes and brand identity for numerous high- visibility products and companies, as well as start-ups and cottage industries
• Headlines, taglines and titles for a wide diversity of projects and clients
• Type design, digitization and modification as well as creating many highly recognized, commercially available fonts
• Handwriting of all styles including everyday scripts and printing, children's writing, historical penmanship, trendy hands (like graffiti), and other genre for film, invitations, ads and commercials.
• Calligraphy and one-of-a-kind pieces
• Icons, marks, and other illustrative elements that help to simply identify your business or product
• Signage and sign system development
We create lettering that speaks directly to our clients needs and to their target audience: from warm, beautiful and personal messages, to dynamic, powerful corporate statements.
We also create graphic images: from icons, marks and other illustrative or pictorial elements such as murals to that of visually positioning a business including corporate identity, web and print design.
Feel free to call or e-mail with questions, to see more work or for a bid on a project. Sign up for my e-blast, LetterNews Newsletter for type and lettering news and to see something new I've done.